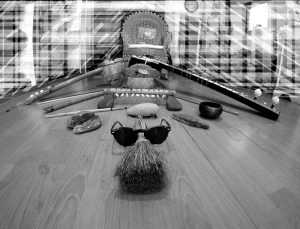 Intim Art is a poly instrumentist from Balearic Island who started playing sitar since the age of 18. He went to Benares and he studied with DR.Raj Bhan Singh, Ajit Singh, Padmabhan Singh ; then next years he studied with Panditji Amar Nath Misrna.
He starded to compose on 1996 making his own private studio INTIM.ART .
His first album, EL BOSC LISERGIC DE L´INFANCIA is a folk avant-garde genre, electro-acoustic school influence.
others albums :

SITAR FOR CALCUTA, is a beneficial work for the children of slums of Calcuta margianated areas.

ZEN.SATIONS ; produced in MALLORCA and edited in Quito, Ecuador.
SRUTI ; produced in MALLORCA  and  edited  in Quito, Ecuador.

He has played all around spain as solist, particpated in meditation campus and colaborated with different bands like SEXY SADIE , les   ZINEDINES, TOGHETER ..
Actually he makes instruments, study harp, sitar, piano ..  and keep on composing his own music albums .