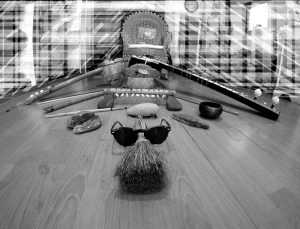 Intim Art is a poly instrumentist from Balearic Island who started playing sitar since the age of 18. He went to Benares and he studied with DR.Raj Bhan Singh, Ajit Singh, Padmabhan Singh ; then next years he studied with Panditji Amar Nath Misrna.
He starded to compose on 1996 making his own private studio INTIM.ART .
others albums :

SITAR FOR CALCUTA, is a beneficial work for the children of slums of Calcuta margianated areas.

ZEN.SATIONS ; produced in MALLORCA and edited in Quito, Ecuador.
SRUTI ; produced in MALLORCA  and  edited  in Quito, Ecuador.

He has played all around spain as solist, particpated in meditation campus and colaborated with different bands like SEXY SADIE , les   ZINEDINES, TOGHETER ..
Actually he makes instruments, study harp, sitar, piano ..  and keep on composing his own music albums .
ILLES GIMNESIES 2016 :
---
His first album, EL BOSC LISERGIC DE L´INFANCIA is a folk avant-garde genre, electro-acoustic school influence :
Starded  after  my  first  visit  to  Benares – India   as  a  need  to  express  all  my  sensations , experimentation  with 
¨the  sound¨   creative  studio  recording ..  by  my  own  at  home  studio  house  in mallorca  .  i was  19  years  old   only 
but   my   cultural  background  on  music  was   focused  on  electroacoustic  pioners  like  john  cage , wolf  vostell   etc ..
also  with  the  british  folkies  such  as ; Incredible  string band , The  pentagle, nick drake … ethnic  sounds  and  the  classical  hindu  music  in  the  main  place  ..
in  the  Album  we  can  apreciate  a  leit  motiv   guided  by  the  NAÏF   aesthetics , bucolic  soundscapes , like  the  tittle  sugest 
in fact  to  the  sensible  vision  of  elements  and  intimacy  within  a  poetic  and  dreamy   structures , very  risky  ideas  indeed   trough  the  whole  album  experimentation ..
with  instruments  as  ; guitars , clarinet , midival  harp , sitar , harmonium , lute ,piano , samplers  of  the  nature , glockenspiel , banjo , sarangi .  voices
of  child  , me  and  a   french  man ,percussions  also  .. etc
the  album was  compiled  trough  2  cicles  , then  on  those   days  i  had  a  lot  of   musical  material  recorded  to  edit , my first  edition . my debut  as  a  musical  author Composser  .
first  cicle  was  compossed  before  charlotte  ( our  daughter   weren´t   born  still )  and  the  second  cicle 
is  opened  with  the  ¨wellcome¨  to  the new baby  born   and  all what   she  inspired  to me on those  days  .. a celebration  to the  life .