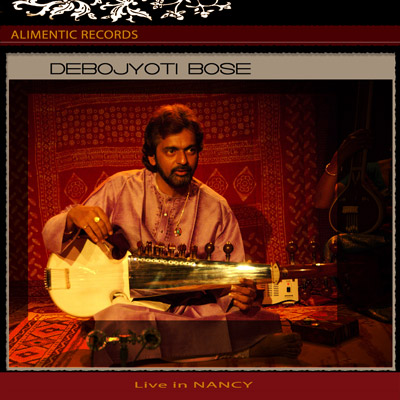 Pandit DEBOJYOTI BOSE
Pandit Debojyoti Bose, alias Tony, naturally inherits an unstrained musical acumen, for he was born in a family of passionate musicians,on the 20TH day of December 1962 at Kolkata. He is the fourth generation musician in the Bose family. His great grandfather Sri Akshay Kumar Bose, a jaminder of Pankobil in Jessore, now in Bangladesh, had a great passion for tabla which was passed on to the generations that followed. That is how he is a born tabla player. His father Pandit Biswanath Bose a tabla legend of Benaras gharana, a disciple of Pandit Kanthe Maharaj and his mother Smt. Bharati Bose a keen Sitar player and a disciple of Ustad Mushtaq Ali Khan and Ustad Ali Akbar Khan, sowed the seed of music in him by imparting the early lessons. He picked up the Sarod at a very young age and learnt the initial lessons from his mother, later he became a disciple of Ustad Amjad Ali Khan and became one of the principle torch bearer of the famous Senia Bangash gharana. His elder brother Tabla Nawaz Pandit Kumar Bose also gave him the phillip to venture into the world of music. He has also received vocal guidance from Pandit Jayanta Bose, his second brother, Pandit Rajan & Sajan Mishra and Pandit Vijay Kichlu. Since Debojyoti hails from an illustrious family of tabla players, he has an amazing quality of blending the tabla with his sarod recitals.
Pandit Debojyoti BOSE est un joueur de Sarod de premier plan. Né dans une famille de musiciens il est dès l'enfance exposé à la musique et apprend auprès de ses parents Pandit Biswanath BOSE et Smt Bharati BOSE ainsi auprès de ses deux frères aînées. Il a été initie au Sarod par le grand maître de Sarod, Ustad Amjad ali KHAN. Debojyoti fait régulièrement des tournées en Europe et aux Etats-Unis, il est aussi compositeur de musique de film, récemment il a composé pour la très renommée Lata MUNGESHKAR
Il est accompagné au tabla par Sumitrajit CHATTERJEE
.Soumitrajit CHATTERJEE est disciple de Pandit Shankar GHOSH. Il a reçu de nombreux titres et distinctions (Dover Lane music competition, west bengal state music academy, Kal ke kalekar à mumbai etc.) Il est un musicien reconnu par ses paires et a accompagné Rashid KHAN (vocal), Samaresh CHOWDHURY (vocal), Kushal DAS (Sitar) pour ne citer que quelques uns.
Enregistré en public le 28 juin 2008 à NANCY