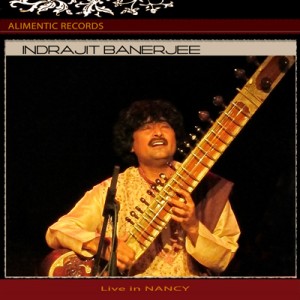 Pandit INDRAJIT BANERJEE
sitar Maestro
Le sitariste Indrajit Banerjee  est un des représentants majeurs de la maihar gharana. Issu d'une famille de mélomanes il reçut l'inspiration de sa mère Manju Banerjee, qui était disciple de Nikhil Banerjee. Plus tard et après divers apprentissages, il reçut un entraînement intensif de son oncle, Pandit Kartick Kumar, éleve majeur de Ravi Shankar.
 Son jeu se caractérise par un touché special au sitar, combiné à une virtuosité technique et une grande sensibilité. Son utilisation des meends(notes coulissés) et des cordes chikari (aigu) à la fin de la partie jod est unique et fascinante.
C'est un artiste *grade A* de All india radio et télévision nationale indienne, mais aussi un artiste reconnu par l' I.C.C.R. (gouvernement de l'Inde) et récompensé part bien d'autres médailles et diplômes. Il a été reconnu *Pandit*, érudit ou Maitre, au festival Parangotsava en 2007 à Mysore dans la région de Karnataka.
Il possède à son actif de nombreuses tournées mondiales et de nombreux festivals notamment en Inde, Europe, USA, Europe de l'est,  Brazil, Canada, Hawai, les Caraïbes, Alaska, etc…
Indrajit est un excellent pédagogue, il a de brillants élèves dans le monde entier.
Il enseigneà l'institut Rythmes et Raag de Chicago, à Samhati en France et à Calcuta en Inde.
Enregistré en public le 7 juin 2012 à NANCY, accompagné au tabla par Subrata Bhattachargee et par Saritha au tampura :

Sitarist Indrajit Banerjee is one of the leading exponents of the Maihar Gharana. He was born in a musical family, unique due to the large number of accomplished artists in Hindustani Classical Music. Some of these family members include his guru, Pandit Kartick Kumar (Sitar), Pandit Barun Kumar Pal (Hamsa Veena), Niladri Kumar (Sitar), Partho Das (Sitar), Aparna Roy (Surbahar). He got inspiration from his sitarist mother, Manju Banerjee, who was a disciple of late Nikhil Banerjee, and afterwards, Santosh Banerjee. Indrajit's training began with his maternal grandfather, Bankim Kumar Pal, who was the disciple of Inayat Khan, and Birendra Kishore Roy Chowdhuri (Kochi Babu). He then took training under Pandit Manilal Nag of Bishnupur Gharana. Later on, he took intensive training from his uncle, Pandit Kartick Kumar, who is a senior disciple of Pandit Ravi Shankar. All of this training developed a strong foundation for Indrajit's music, and creative individuality. Indrajit has a special touch on Sitar combined with technical virtuosity and sensitivity.
Subrata Batthacharya, tabla
When inborn talent and devotion to music come together they must inevitably give birth to an artiste like Subrata Bhattacharya. A tabla player of note on the Indian classical music scenario, Subrata is amazingly talented and his accomplishments and achievements in the field of percussion music have earned him name and enviable fame. Subrata is one of the leading tabla players in India today. Few tabla players have enjoyed such instant recognition and acclaim among concert audiences. Subrata's solo renderings reveal his knowledge of the art and his creativity at their best.