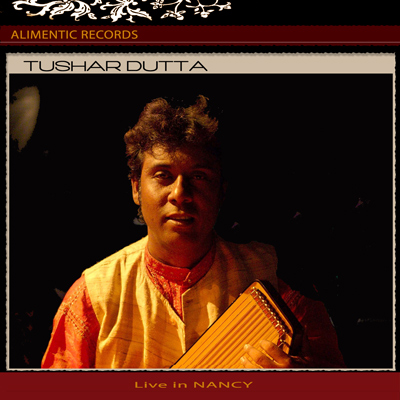 Pandit TUSHAR DUTTA
Pandit Tushar Dutta is amongst the most celebrated vocalist of Kolkata. Immensely talented and « Talim »ed under some of the greatest Gurus of India Pt A Kanan, Pt A Bhaduri, Pt K G Ginde. 50 recorded discs in his repertoire and one the most well known Guru.
Tushar DUTTA est un vocaliste classique du Bengale. Il fut initié très jeune par de grands maîtres bengali. Il a étudié 16 ans à la très prestigieuse Sangeet research academy à Calcutta auprès de maîtres comme Pandit A.T. KANAN, K.G. GUINDE, Arun BHADURI.
Il est accompagné au tabla par Sumitrajit CHATTERJEE.
Soumitrajit CHATTERJEE est disciple de Pandit Shankar GHOSH. Il a reçu de nombreux titres et distinctions (Dover Lane music competition, west bengal state music academy, Kal ke kalekar à mumbai etc.) Il est un musicien reconnu par ses paires et a accompagné Rashid KHAN (vocal), Samaresh CHOWDHURY (vocal), Kushal DAS (Sitar) pour ne citer que quelques uns.
Enregistré en public le 28 juin 2008 à NANCY