Sergo Solo est un musicien au parcours reliant musiques improvisées, musiques du monde et expérimentales.
---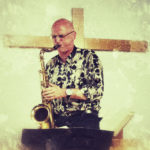 Fruit d'un travail d'un an, c'est un voyage immobile animé d'une pulsation vitale alors que le monde se confine.
On peut y percevoir des présences, ressentir des absences en écoutant les échos de la vie qui portent des voix familières, célèbres ou anonymes. Les couleurs sonores sont autant de correspondances sensorielles, évocatrices parmi lesquelles le saxophone se fait tour à tour texture, rythme ou voix répondant à d'autres voix.
The result of a year's work, it is a motionless journey with a vital pulse as the world confines itself.
We can perceive presences there, feel absences by listening to the echoes of life which carry familiar, famous or anonymous voices. The sound colors are so many sensory, evocative correspondences among which the saxophone is alternately texture, rhythm or voice responding to other voices.
LISTEN/BUY/DOWNLOAD :